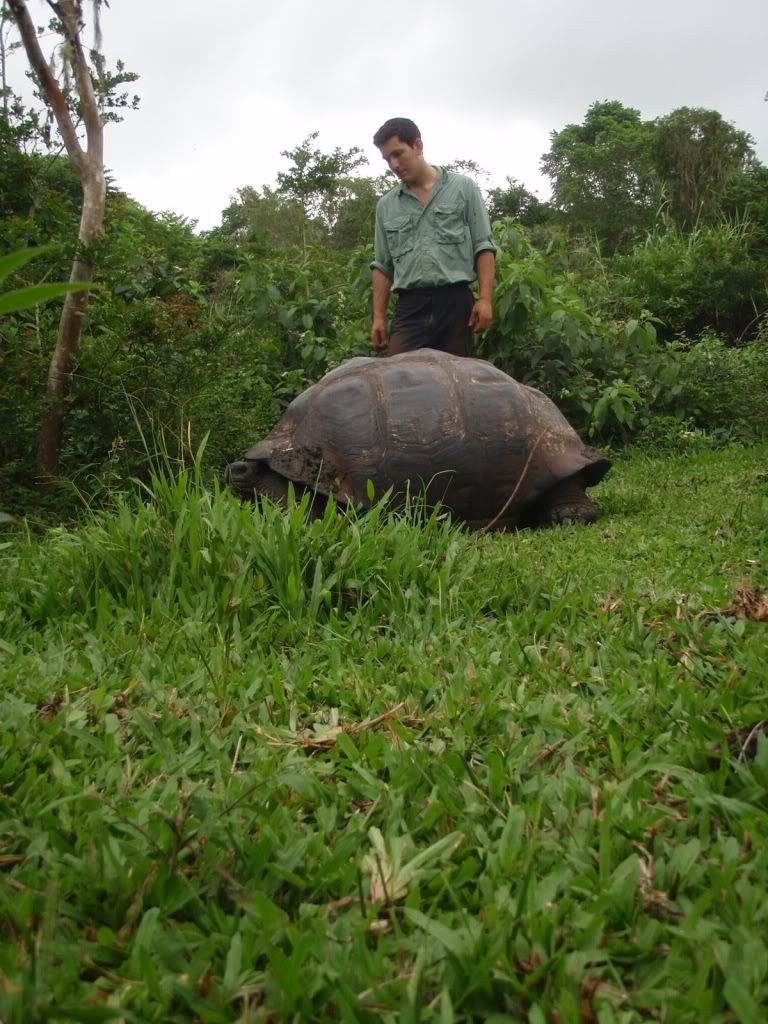 My penultimate post covered the participatory monitoring workshop I attended the last week of June. Here I will describe our results in the last two days of the meetings.
When dividing the attendees into different groups with assigned topics of discussion, the workshop organizers assigned me as discussion leader of the Resident (Urban and Rural) group, where six or seven of us talked about varied approaches and types of programs.
We started with the rural residents, focusing on farmers since the majority of landowners in the agricultural region of Santa Cruz fit that category, either with coffee, sugarcane, cattle, or other crops. There are countless farms in the area, and only about a dozen of them practice any tourism, but we considered this smaller group the perfect audience for a pilot project, since they should be more interested in completing periodic checklists of focal species that serve as tourist attractions. Guides from cruises or local operators often take groups of tourists up into the highlands to see wild giant tortoises and less common landbird species like the Vermilion Flycatcher, and these few farms offer not only passage in their land (as safe havens for the attractive species) but also their coffee or homebrewed sugarcane rum to the tourists. Some properties even have lava tunnels, one of which I've been told by a Hawaiian visitor is even more impressive than the famous Thurston lava tunnel on the other well-known volcanic archipelago of the Pacific Ocean.
The types of data our group considered possible and valuable from and for farmers included climate monitoring (with automated weather stations to be set up on various properties, recording rainfall, temperatures, etc.), the aforementioned species checklists (presence/absence, abundance, location, behavior, etc.), and insect trapping. The latter idea was the one that interested me the most, because one of our group members from the Charles Darwin Research Station told us that some farmers will bring insects they don't recognize down to the scientists and ask for identification help, since the risk for invasive pests is so high on the islands. This is a very informal thing right now, but my proposed plan was to provide interested farmers with insect traps that they can set out periodically and then bring down to the Station. From there, experts might not only report back to the farmers on their resident insect population but also receive useful samples that might aid in early discovery of invasive species.
Since we can be sure that those involved in agricultural work have the main, constant goal of improving or increasing their harvest, asking them for data that helps scientists build better climatological maps or improve tortoise monitoring based on seasonal changes should be met with cooperation as long as those data are always shared with the farmers. Information that is useful for both parties is the type that will actually be collected in earnest.
On that note, our group's ideas for urban residents were a bit lacking, because we had no clue what the average Puerto Ayoran is interested in learning about. Thus, our proposal was to have an initial meeting to gauge interest and determine what projects would be desirable to the community. A sort of "town hall" setting was recommended to learn what people know and what concerns them—shoving projects upon them and asking for participation is unlikely to succeed. Some potential activities included festivals or "bio-blitzes" celebrating certain taxa (such as this Mexican bird festival and this type of bio-blitz) and a program similar to Celebrate Urban Birds. Another group focusing on "sustainable society" drafted an improved trash reduction/collection project and a water-monitoring program for residents, since water quality is quite poor here.
As I continue to review my notes, I'm sure I'll find more interesting aspects of the workshop to share, so I'll leave those for my final update!
Last week, thanks to the effort of very helpful contacts on the islands, I was able to attend a Participatory Monitoring workshop in Puerto Ayora. For those of you unfamiliar with the term in the workshop title, you are not alone. Participatory monitoring, community science, public participation in scientific research, volunteer data collection–these all mean practically the same thing as citizen science, which I have briefly written about before. Here is another good, and possibly the most definitive, source of information on the subject, and although the site is a part of the Cornell Lab of Ornithology, I've pointed out (even more briefly) that projects are by no means limited to birds.
The workshop consisted of an impressive list of international expert invitees—representing Cedar Crest College/Earth Watch, SUNY (College of Environmental Science and Forestry and at Stony Brook), Stanford University, Pepperdine University/ Scripps Institution of Oceanography, the Center for Biodiversity and Conservation/American Museum of Natural History, Colorado State University/University of Wisconsin-Madison, the United States National Park Service (Joshua Tree National Park and Acadia National Park), and the Galápagos Conservancy. Additionally, the Galápagos National Park, Charles Darwin Foundation, WWF Galápagos, Conservation International, Universidad Central Sede Galápagos, and Grupo FARO were present. A very skilled interpreter, with portable headsets, helped those who didn't speak English or Spanish. Being in the minority of non-PhD.-holders, and practically the only person with just an undergraduate education, made walking into the room slightly unnerving, but I knew that since the Cornell Lab of Ornithology didn't have a representative in attendance there were still constructive inputs that I could contribute, seeing as the workshop was about citizen science. Another comfort was that people commonly mistake me for being older than I am. While a freshman at Cornell two years ago, many of my TAs thought I was a senior or junior for most of the semester, and when traveling, people who I tell I'm studying at Cornell tend to assume I'm in graduate studies until I correct them.
Thankfully, on no occassion did I feel that any of the workshop attendees felt my presence was unwarranted or detractive. The majority of invited experts were not only quite friendly, but also interested in hearing about my work and life experience and in telling me about their own research or positions (the latter is, of course, very much expected). I learned a lot from talking with them during coffee breaks and by accompanying them to meals. For the lunches I was able to take them to my two preferred midday locations—which happen to be the only two I've been to for lunch in Puerto Ayora—and at both restaurants (Galapagos Deli and El Chocolate) everyone was exceedingly happy with the dishes they ordered, so I was very satisfied that the only guiding I felt qualified to pursue produced good results.
The workshop was organized into a series of brainstorming and presentation periods: groups designed by the organizers of the workshop would assemble for several hours and think about issues and programs together, then the group leaders would present to the wider workshop as a whole. This happened at several stages: first I was in a group labeled "Terrestrial," the others being "Marine" and "Sustainable Society." In this initial terrestrial setting we talked about types of species any citizen science project would be concerned about, data collection methods, and how to engage different demographics and categories of people. Perhaps a bullet list is the best way to briefly describe what we discussed:
The composition of focal species lists that would include species that are:
invasive/introduced
endangered/threatened
charismatic
indicator (i.e. species that are sensitive or that can tell us about the state of the ecosystem)
ecologically important
We talked about potentially ranking species based on the chance of encountering them, their cultural importance, the level of knowledge present regarding their natural history, and their sensitivity to monitoring. Attributes to measure could be:
distribution over time and location
abundance
health
morphology
presence/absence
phenology (i.e. seasonality in relation to climate and associated plant and animal life)
behavior
genetic diversity
Designing citizen science programs for residents, tourists, and guides requires different forms of data collection, focal species, physical areas of concern, levels of commitment, and countless other factors. The workshop ended up dividing the groups down to urban residents, rural residents, scuba-diving tourists, and ship-based tourists. How we discussed these groups and came up with potential programs for them is the subject of my next post!
As I had a spare couple days on mainland Ecuador before flying to the Galápagos, I took a very brief trip to Mindo for a day and a half, where Mari Gray, a pre-kindergarten teacher at the Tomás de Berlanga school in Santa Cruz, told me I should be able to see lots of cool birds. Perhaps not too coincidentally, my host in Quito had asked me if I'd heard of Mindo just a few hours after Mari emailed me about the town, similarly informing me that the biodiversity was incredible, particularly for birding.
Even after taking a pretty intense ornithology class at Cornell University and working for the Lab of Ornithology, I don't really consider myself a birder. When I went on a number of field trips for the class it was the first time I'd really used binoculars with the intent of just spotting birds, and I don't even know the difference in calls of an American Robin from an Eastern Bluebird, though I can tell you their species, genus, family, and order, as well as those of 149 other common North American birds. Still, when I read that over three hundred bird species reside in the Mindo area, I knew it was an opportunity that nobody should pass up, and this was confirmed by one of my ornithology classmates who knew beforehand over half the bird families we learned. Then I read that the Club-winged Manakin, a bird I'd learned about in class, was fairly easily seen performing its lek courtship display, I knew it was an opportunity I could not pass up.
A lek, although the basic monetary unit of Albania, in this case is the Swedish-based term for a small area where males of a species communally display for females in the hopes of attracting one or more (the Manakin family, Pipridae, is polygynous) as a mate. The Club-winged Manakin, Machaeropterus deliciosus (the name portrays some of its visual and auditory allure), which has been closely studied by Cornell University professor Kim Bostwick, is a truly bizarre creature. The sound you'll hear (or perhaps have heard) when the male puts its wings together behind its back is the rubbing of feathers together, akin to some well-known insects with their own adapted body parts. For a bird to do this, and achieve such a thrilling trill, is fairly stupefying. It was especially exciting because the Mindo Cloudforest Foundation's Milpe Sanctuary contains a lek that is quite easily accessible and presumably rewarding to anyone who comes during breeding times—even inexperienced birders such as Mari and myself could have found these guys quite quickly without the very skillful help of our hired guide Irman Arias (who I'd recommend if you happen to travel for birding anywhere in Ecuador).
One of the other two species of Manakin found in the Milpe Reserve, the Golden-winged Manakin, is generally, and was, a bit harder to find. We had to search around for a while and double back on our trail a couple times before we located a calling male, and then it took a bit of waiting and mimicking the call (an amusing grunt) to get close to one. Even then, the bird showed why the Spanish name for Manakins is Saltarines ("little jumpers"), and was also surprisingly stealthy for what I'd always taken to be a fairly charismatic family. When flying and alighting the Golden-winged was absolutely silent, just like the superhero it resembled (in the guide-book illustrations it struck Mari and me as strongly reminiscent of Batman), and in the late morning light spotting the dark bird and filming it was pretty difficult (but again, I'll try to get images, stationary or rolling in film, up next week).
Including the two manakins, my day and a half in Mindo yielded about 41 species, over 30 of which I had never seen before. That was roughly 18 bird families and 8 orders! My next post about Mindo will describe some of them, and include photos and video, as well as the species list!
Here is the video of the manakins. The round glare you often see in the video is the lens of the camera reflecting against the scope that provided most of the zoom to capture the images—I discovered the annoying way how difficult it is to perfectly align the two device's lenses. Thus, some of my footage has required heavy splicing to edit out the seconds spent trying to focus the scope (which in addition had a bad leg) in one hand while keeping the lenses in line with the other hand. Unfortunately, the most evasive bird, the Golden-winged Manakin, was the subject of the most troublesome equipment management.